Christmas 2023 in Innsbruck
The first snowflakes have fallen long ago, and winter has arrived in the mountains around Innsbruck. Perfect conditions for a day of skiing or a relaxing winter hike. The atmosphere in the city is particularly charming this year. A good opportunity to visit the Christmas markets and to look around in the lovely decorated shops in Old Town.
15 NOV 2023 - 06 JAN 2024
Christmas Markets
Everywhere you can smell the fragrance of roasted almonds and cinnamon - Christmas is in the air! Have you ever tried Tyrolean specialities such as "Kiachln" (fried pastry), baked potatoes or cheese spätzle?
The Christmasmarket in Innsbruck does not take place in just one place, actually there are 7 markets, which are spread over different places in the city and each of the markets has its own character. Our tip: take your time to stroll from market to market and enjoy the highlights of each market.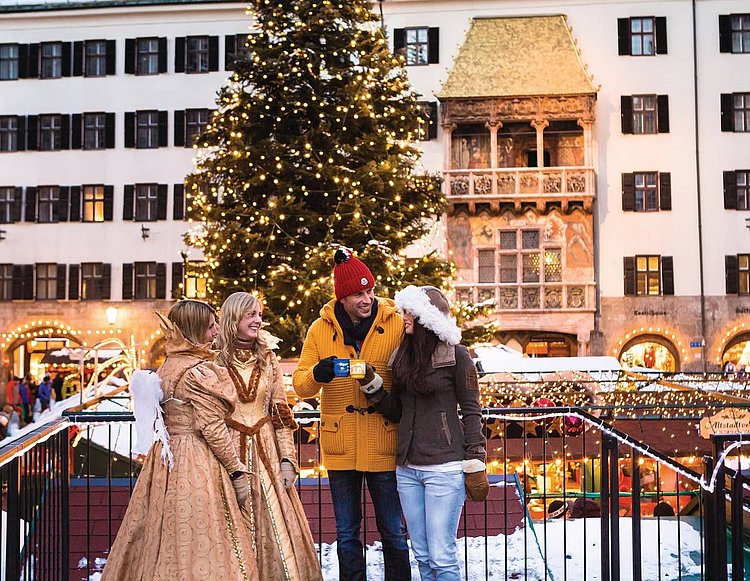 18 NOV 2023 - 28 JAN 2024
Lumagica
The Imperial Gardens in Innsbruck have turned into Lumagica and take one's senses into an enchanting world of light and magic. Walking through the park leads past hundreds of gleaming mythical objects accompanied by music and video effects. It's magic!
The magic park of lights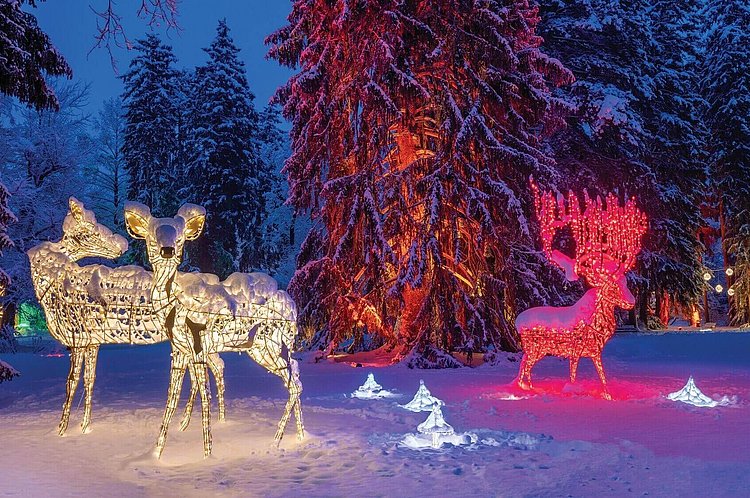 Christmas Eve
In the afternoon of December 24th, the city turns quiet. A good opportunity to take a stroll in town and enjoy the Christmas spirit.
At 5 pm a brass ensemble take their place on the balcony of the Golden Roof and play Christmas music.
To warm up after your walk you can take a hot drink in our cosy hotel bar (open after 6 pm).
• Christmas masses on December 24th:
6.00 pm: Christmas mass in English in the Jesuit Church
11.30 pm: Pfarrkirche Mariahilf (350 m from our hotel)
11.30 pm: St. Jacob Cathedral

Opening hours at Christmas
• December 24 (Christmas Eve)
The Christmas market on Maria-Theresien-Strasse is open from 11 am to 3 pm. Cafes, restaurants, shops and museums close between 2 pm and 4 pm. The State Museum Ferdinandeum, Hofkirche, Folk Art Museum and the Tyrol Panorama offer free entry on December 24th.

• December 25 and December 26 (holiday)
Shops and many museums are closed. The Christmas market on Maria-Theresien-Strasse is open from 11 am to 9 pm.

Sightseeing Tips
The snow is falling all year round in the cabinet of wonder "Silent Light" at Swarovski Crystal Worlds, but during Christmas time the millions of crystals seem to shine even brighter! You can visit this magic place every day, even on holidays.
Other places which you should absolutely see are Bergisel ski jump, alpine zoo, Imperial palace and Nordkette cablecar.

Christmas music
Every evening at 5.30 pm a wind quintett plays Christmas melodies from the balcony of the Golden Roof by the Christmas tree in Old Town.

Restaurants
You will find a big choice of restaurants very close to our hotel. Our hotel does not have a restaurant. Please remember to reserve a table in time, especially on December 24 and 25, as many restaurants are closed on these two days.
29.12.2022 - 31.12.2022
New Year's Eve in the mountains
The historic Old Town, the picturesque row of houses by the river and the beautiful mountain backdrop form the framework for the celebrations around New Year's Eve in Innsbruck. Thanks to "Zwergerlsilvester", the little guests don't miss out.
For several days between the years, our row of houses in Mariahilf, the cathedral, the Hofburg and the town hall will be transformed into a fantastic world of images and sounds using 3D facade mapping.
At midnight on December 31, the traditional fireworks display rings in the new year high above Innsbruck on the Seegrube. Music and the Blue Danube waltz are simply part of New Year's Eve and should not be missing this year either.
In Innsbruck it is easy to combine winter sports and a visit of the Christmas markets. The mountains around Innsbruck are easily reachable and a perfect places to practise all kinds of winter sports:
daily from 6 pm to 11 pm
Hotel bar
Our cosy hotel bar is open every day, even on Christmas and New Year's Eve. The right place to warm up after a stroll in the city, to have a good time talking with your family or your friends or for a good night drink. We do not serve only drinks, but also some warm snacks.