Our guests often say:
"Next time we stay longer"
1 night and already leaving - too short for Innsbruck!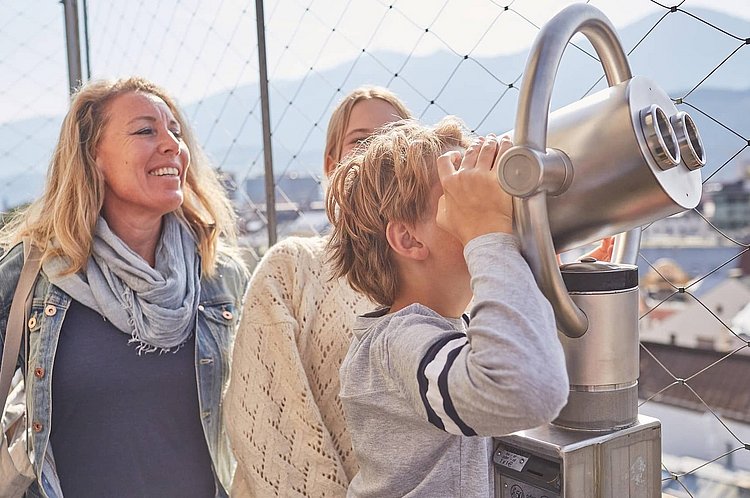 Take a few days to get to know Innsbruck and look at all the beautiful places. Not only the city center is worth seeing, Innsbruck is the perfect starting point to explore the whole region.
With the Welcome Card Plus (from 3 nights) and the Innsbruck Card this is twice as fun, because both bring attractive benefits.
The Innsbruck Card is a purchase card. The card includes most sightseeing attractions in the city.
The Welcome Card is a personalized free guest card and is available for stays of 2 nights or more. Additional benefits are available for stays of 3 nights or more.
The Innsbruck Card can be purchased for 24, 48, 72 hours and is valid from the time of activation.
The Welcome Card is valid from the time it is issued after check-in until midnight on the day of departure.
Both cards are available at our reception.
Yes, both cards are available as a digital card.
What can I do with the cards?
Innsbruck Card
to buy
Welcome Card
free
Public transport within the city center
✔
✔
Selected public transport to the surrounding area
✔
Swarovski Crystal Worlds shuttle bus
✔
Sightseer Hop-on Hop-off Bus
✔
Nordkettenbahnen - Top of Innsbruck
✔
20 % discount
from 3 nights
Patscherkofel cable car
✔
20 % discount
from 3 nights
Muttereralm cable car, Oberperfuss cable car, Axamer Lizum cable car, DreiSeenBahn Kühtai cable car
gratis
from 3 nights
Swarovski Crystal Worlds
✔
Ambras castle
✔
Bergisel ski jump
✔
Imperial palace, Court church
✔
City tower
✔
Alpine zoo
✔
Guided city walk
✔
Guided hikes according to weekly schedule
✔

Innsbruck Card
Sightseeing at an all-inclusive price

Welcome Card
Important information:
The Welcome Card summer (1 May to 31 October) and winter (1 November to 30 April) differ with regard to the services offered
For all cable cars: each limited to 1 ascent and 1 descent (direct access at the turnstile)
For all museums: each limited to 1 admission
Unlimited use of public transport and the Sightseer Hop-on Hop-off bus during the validity period
Please note the opening hours as well as weather-related and seasonal closing times!